Drilling mud mixer is a specialized solids control equipment used for configuring and aggravating drilling fluid , thus change the density , viscosity and pH of drilling fluid.

Drilling mud mixers from DC for drilling fluids and other drilling additives must be correctly blended and evenly homogenized before pumping down opening to execute their complex functions in oil & gas exploration. The practical, non-sheer DC tank mixing procedure for tedious mud mixing can be customized to fit any dimension or geometry tank.
APPLICATION OF DRILLING MUD MIXER
When making up, put the materials of drilling fluid (such as betonies and barite powder) as well as matching chemical additives (such as a polymer) into the blending hopper and afterward go into the recycling storage tank through the jet unit. If placed right into the mud storage tank directly, the materials of drilling liquid and chemical additives will undoubtedly be mainly transferred or disposed of with each other. Also, we can not acquire diffused and well-proportioned bland fluid. The mud mixing system can increase the sheer stamina of the liquid in the tube, enhance product dispersion, and raise the liquid mixing stress to obtain the product in the entire cycle and mixing.

Suitable Material:
Air/water
Air/polymer
Water-based mud (WBM).
Oil-based mud (OBM).
Artificial base fluid (SBM).
DRILLING MUD MIXER FEATURES AND ADVANTAGES
Drilling Mud Mixer can maximum performance mixing. The rig site needs the enhancement of bentonite, polymers, and other powders to accomplish the performance of the soft mud usually, such as hole cleansing mud viscosity, water loss control, and the filter cake development. In applications of huge proportion soft mud, the application of barite prospective accident is more vital.
DC uses venturi tube combined with original jet nozzle created a new design of jet mud devices, not only simple in structure, but also have strong feasibility, which can meet the aggravation and configuration of drilling fluid in drilling solid control system from 1500m to 9000m.
We can also produce double Drilling Mud Mixers according to customers' requirements. Jet mud mixers produced by DC have the advantages of high mixing speed, safe and reliable performance, long service life and ect.
Advantages of DC Drilling Mud Mixer:
Mixes all types of drilling muds & drilling fluids faster than conventional mixers.
Oil based muds & high solid slurries
Water based muds & high solid slurries
Synthetic muds & high solid slurries
Chemical polymer additive muds & slurries
Cutting fluids
Drilling fluids
Can fit any size tank or geometry
More energy efficient than air spargers and mechanical mixers
ZERO in-tank maintenance
Mix 100% of the tank with no baffles or dead zones
Mix at any liquid level for better tank utilization
Adjustable speed and power for maximum efficiency
Custom engineered to fit any tank size, configuration or any number of tank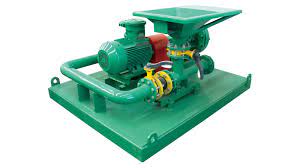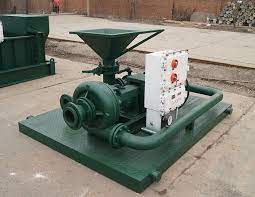 SUPPLY JET MUD MIXER PARAMETER TABLE
Model
DCSLH150-50
DCSLH150-45
DCSLH150-35
DCSLH100-25
DCSLH100-25
Treating Capacity
230-375m3/h1012-1650GPM
140-230m3/h616-1012GPM
120-210 m3/h528-924GPM
70-110 m3/h308-484GPM
30-60m3/h132-264GPM
Matching Pump
SB8 x6-13-55kW
SB6 x5-13-45kW
SB6 x5-12-30kW
SB5 x4-12-22kW
SB4 x3-12-15kW
Pressure
0.25~0.40Mpa
Feed Inlet
6〃(150)
6〃(150)
6〃(150)
4〃(100)
4〃(100)
Inlet Diameter
8〃
6〃
6〃
5〃
4〃
Outlet Diameter
5〃
5〃
5〃
4〃
4〃
Hopper Size
600x600mm
600x600mm
600x600mm
500x500mm
500x500mm
Mixing Speed
100kg/min
80kg/min
≤80kg/min
≤60kg/min
≤40kg/min
Mud Density
≤2.8g/cm3
≤2.4g/cm3
≤2.0g/cm3
≤2.0g/cm3
≤1.5g/cm3
Mud Viscosity
≤120s
≤120s
≤120s
≤80s
≤60s
Dimension
2200 x1760 x1250mm
2200 x1760 x1100mm
2200 x1760 x1100mm
1800 x1720 x890mm
1800 x1720 x890mm
weight
1600kg
1350kg
1280kg
950kg
900kg
Remark
The motor power of centrifugal pump choosed is according to drilling mud specific gravity 1.2g/cm3
DRILLING MUD MIXER STRUCTURE AND FUNCTIONING PRINCIPLE
Traditional SL (M) Collection Blending tool is a solitary jet mud blending device made of a straight centrifugal pump (sometimes with a shear pump, to boost cutting performance) and a three-way mixing receptacle attached by a manifold valve mounted on a base. A double mixing device with two collections centrifugal pump and two sets hopper is also offered according to the actual needs of users.
DC provides you with complete after-sales and consulting services, and can customize production according to your requirements.
We only make the most reliable products and the best prices. If you want to know more, you are welcome to ask us any questions at any time!