DC Solid control supply a complete line of DNV rated Mud Cuttings Skips for the safe containment and transfer of waste produced from offshore well drilling and completion processes. Also known in the industry as Cuttings Bins / Small and Large Drill Cuttings Boxes (SDCB or LDCB).
The offshore skips are used for transportation and safe handling of hydrocarbon contaminated drill cuttings to and from offshore platforms. These units provide a safe and efficient means of containment of drilling waste for transport to treatment and disposal sites.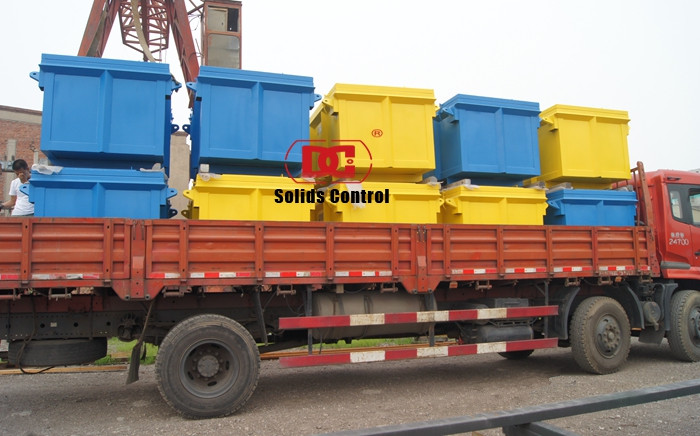 Recent days, DC Solid control got a order of 30 sets of mud cutting skips to China offshore clients. The mud skips have been designed, manufactured and certified in accordance with DNV 2.7-1 / EN12079 and are suitable for drill cuttings, discarded mud and drilling fluids. Safety features such as lightweight lids for safe and easy lifting, opening and closing are incorporated as standard. Our offshore closed mud skip capacities range from 2.6m3 (16.5bbl) through to 6.4m3 (40bbl) and are available for sale or rental throughout our network of global facilities. Our offshore vacuum rated cuttings skips include capacities from 2.3m3 (15bbl) to 4m3 (25bbl).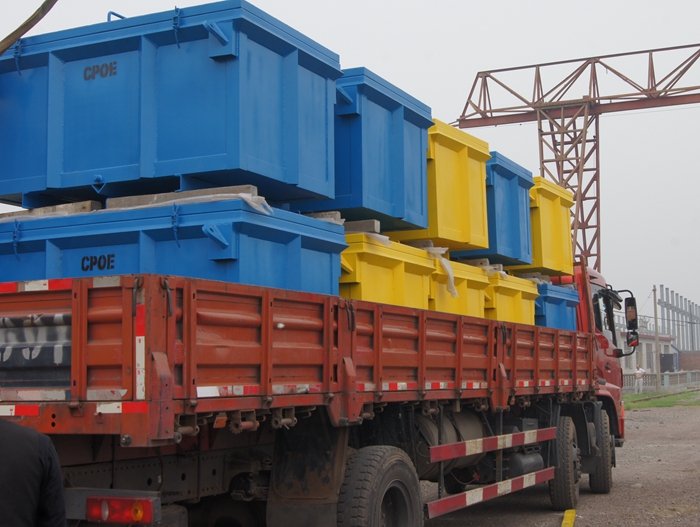 Drilling cutting box produced by Dachuan have the following characteristics:

1. Structure of cutting box is indurative and with watertight seal.
2. The bottom of cutting box is planar and no bulge.
3. Weld surface molding is uniformity, densification, closely integrated with the steel plate, seamless, and no oversize surplus height of seam, weld beading, arc crater, undercut and other defects.
4. Antiseptic sand blasting of Q235A steel, twice of expoxy zinc rich primer, penguard midcoat MIO and chlorinated rubber top-coat. the thickness of dry editpaint film is larger than 100um
5. CCS Certificate of offshore drilling cutting box.
Please contact us if you have interest with the mud cutting skips.