Hydrocyclone Desilter is solid control system two solids control equipment. Hydrocyclone Desilter role is to reduce the load in addition to the mud downstream. In addition to the front mud install Drilling Fluids Desander can effectively remove Oilfield Drilling Fluids Desilter large number of particles in the load and improve efficiency desilter.
When the high-speed drilling, especially in the loose soil shallow well section, typically using a large diameter drill bit, it will produce a lot of drill cuttings, which may lead to the occurrence of port Desilter "rope" emissions, requiring in Oilfield Drilling Fluids Desilterr installed upstream of Drilling Fluids Desander, where it can provide greater separation of the volumetric capacity for coarse cuttings. Only Drilling Fluids Desander cleared the high concentration of large particles in the fluid cuttings, desilter can more effectively deal with the overflow Drilling Fluids Desander on. If the penetration rate is slow, can only produce about half an hour tons of drill cuttings, in addition to drilling mud is usually able to handle all of the cycle, then can turn off Drilling Fluids Desander.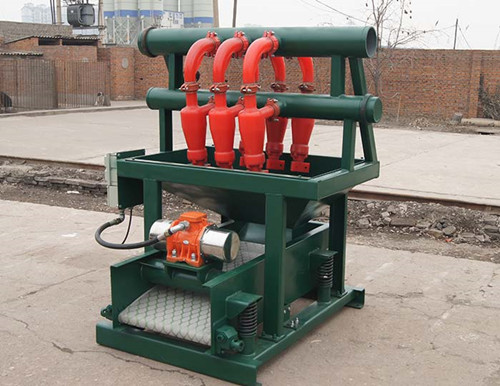 Common Problems
(1) Repeated plugging of Apex in all cones.
(2) One or more cones plugging while others are working normally.
(3) Cones are loosing whole mud in stream.
(4) Solids content in cone overflow continues to increase over time.
(5) The underflow discharge is very dry.
(6) Hydrocyclones leak between the cone nut and body, but no fluid is coming out of the bottom.
Possible Cause
(1) Too small of underflow opening.
(2) Plugged at feed inlet or outlet.
(3) Backflow from overflow manifold, or centrifugal pump impeller worn out or too small,
(4) Drilling through hydratable clays will cause increased viscosity.
(5) Strong vacuum in manifold discharge line.
(6) The apex cone nut is tightened too much which does not allow fluid or solids to exit the hydrocyclones.
Recommendation
(1) Increase apex opening size if possible. If this does not help try a finer mesh screen on the shaker to remove more of the solids before they enter the hydrocyclones.
(2) Remove apex nut and clean out blockage. If this does not help, remove the entire cone to check for blockage at the inlet.
(3) Caused by a plugged cone inlet, clean out the inlet. Check the pressure at the inlet manifold. Low pressure indicates decreased head from the pump, then remove cone and clean.
(4) Cone separation efficiency decreases as viscosity increases, dilute the mud to decrease viscosity if possible.
(5) Usually it occurs since discharge line drops into pit. Enlarge the discharge line or install anti-siphon tank.
(6) Hydrocyclone apex nuts should be only hand tightened. Cones should be checked frequently to ensure that apex nut is not worn out causing rope discharge.
Know about the best Hydrocyclone Desilter
Desilter Dachuan supplied is the third class solid control equipment in solid control system,it is used to separate the solid phase particles whose diameter is 15~44μm.
(1)Select Special wear-resistant polyurethane material hydrocyclones.
(2)Symmetrical feeding design can make the liquid distribution to be more reasonable and stable.
(3)Underflow shaker equips DC mud shale shaker.
(4)Different specifications and quantities of hydrocyclones can be matched according to the handling capacity that customer required.
If you are interested in our products, please feel free to contact us!