Drilling mud waste is one of the main sources of pollution in the oil and gas industry, and its disposal is a major problem in the oilfield at present. The sludge generated from the disposal of waste drilling fluid is included in the national hazardous waste list. With the improvement of national laws and regulations, local governments' environmental protection requirements, and the enhancement of oilfield environmental awareness, the development of drilling fluid treatment technology and methods is inevitable.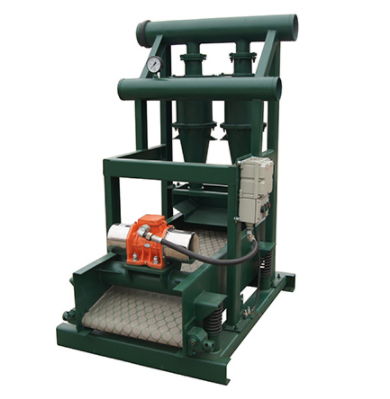 Drilling Waste Treatment Technology
At present, drilling waste treatment technologies mainly include simple treatment and discharge, injection into safe strata or annular space at the bottom of the well, off-site centralized treatment, backfill, in-pit sealing, land cultivation, curing, solid-liquid separation, incineration, microbial treatment, etc. However, these treatment methods basically have a problem of economic and environmental benefits can not be two, good treatment effect, the cost is too high; low cost, environmental requirements and can not meet the requirements. Such methods as re-injection of strata, soil cultivation, and environmental benefits are indeed good, but the limitations are too great to be popularized.
Solid-liquid Separation and Slag Recycling
The main equipment in the solid-liquid separation and slag recovery stage includes: a shaker screen, mud desander, desilter. The drilling mud flows into the mud vibrating screen through an elevated pipe sink to dispose of the large solid particles. Then the sand pump pumps the treated mud into the desander and deslimer to remove the sand and mud from the mud. The treated mud flows into the mud tank for further processing.
Waste Drying
The main equipment of the waste drying stage includes: screw conveyor, auger chip dryer, horizontal centrifuge. The process is that the screw conveyor flows the waste sludge filtered by the vibrating screen, desander and deslimer into the drill chip drier to be dried. The treated slurry flows into the storage tank, and then the screw pump feeds the slurry to the centrifuge for further separation and treatment. The treated slurry flows into the storage tank for recycling. The dried sludge can be directly transported by truck to the brick factory for brick making, road construction, etc. It really realizes the secondary value utilization of slurry and the win-win situation of environmental benefit and economic benefit.
The Last Words
At present, this method has been widely used by domestic and foreign customers in the field of drilling site waste treatment. Tangshan Dachuan Machinery Co.,ltd. is a company focused on the production, sales, after-sales, and maintenance service of petroleum drilling mud cleaning equipment and trenchless mud recovery system. The main products are shale shaker, vacuum degasser, desander, desilter, mud cleaner, mud gas separator, mud agitator, centrifugal pump, shear pump, flare Ignition device, jet mud mixer, mud tank, water tank, diesel tank, vertical cutting dryer and etc.
If you are interested in our products, please feel free to contact us!